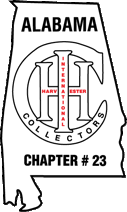 Copyright Alabama Chapter #23 International Harvester Collectors • Updated March 25, 2020



Due to Circumstances Beyond Our Control the Show at Wetumpka on April 4, 2020 has Been Cancelled.
The First Chapter #23 Meeting of the Year that was to be held at Wetumpka has now been rescheduled for the Snead Equipment Show at Snead, AL in Blount County at 11:00 a.m. on Saturday, April 18.
Be Advised That This New Date for the Meeting is Subject to Change as Well. Information About Additional Adjustments to the Show Schedule Will be Posted on this Page as Soon as Possible.
.Please Help Us Spread the Word About This Cancellation to any Members You Know Who Were Planning to go to Wetumpka.